Solutions with selfadhesive Films for the Industriy
Application Areas
Wind Turbine Power
Shipbuilding
Pipeline
Tank Construction / Silos etc.
Material
Steel
Concrete
Aluminum
Plastic
Wind Turbine Power
New Construction
Existing Facilites
Retrofit
Maintenance / Service / Repair
Our Services
Surface protection: Anti-corrosion
Surface protection: Anti-Graffiti
Surface protection: Anti-fouling
Surface marking: Safety markings
Surface marking: Branding / technical marking
The challenges in the wind power industry:
Weather-dependent processing
Lengthy drying and waiting times
Variations in coating thickness
Disregard of mixing ratio for 2K solutions
High disposal costs
Environmental pollution / contamination / paint splashes / spray mist
Health hazards / paint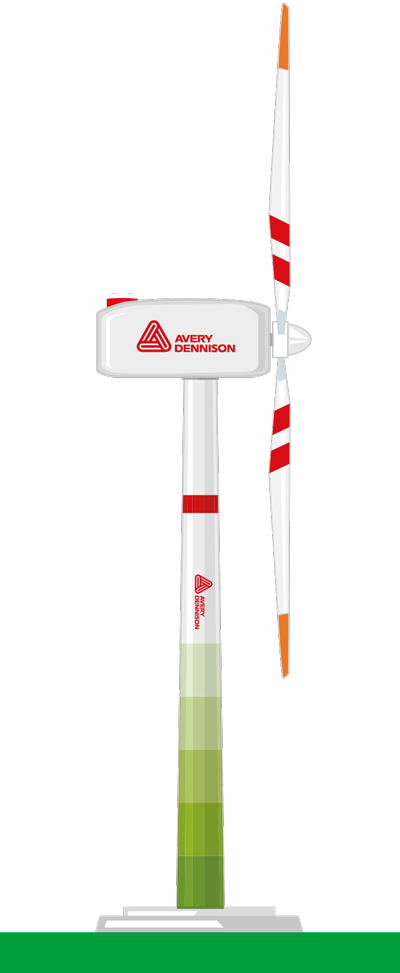 The Solutions
Surface coatings with self-adhesive high-performance films. Peper Energy GmbH works closely with Avery Dennison, which has the right film for every application in its portfolio.
The films not only have a protective effect, but also contribute to the positive perception of the facilities. Anti-graffiti films reduce the misuse of the turbines, and in addition various films significantly increase the visibility of the wind turbine.
The various advantages of Avery Dennison products in detail
Anti-Corrosion: Avery Dennison WT Tower Protection Solution
Effective corrosion protection system (component)
Corrosion inhibition of up to 15 years - C5 environment (DIN EN ISO 12944-9)
For offshore and onshore applications
Saves installation time and costs due to simplified layer structure
Spot Repair
VOC-free - no need to control emissions
Non-hazardous to installation crews
Easy to apply and repair - no drying time
Standard and custom colors (e.g. RAL 7035 matte, 1023 matte, 3020 matte)
Height-visibility / safety marking: Avery Dennison WT Branding & Safety Marking Solution
Color consistency throughout
VOC-free - no need to control emissions
Non-hazardous to installation crews
No maintenance - one time application for product lifetime
Less labor - lower cost
Durable solution
Products are also used for technical labeling
Anti-Graffiti: Avery Dennison WT Anti-Graffiti Solution
Anti-graffiti film that enables easy removal of graffiti
One time application
Easy maintenance
Less effort - less cost
Matte and gloss finish
Existing graffiti can be covered with a combination of Tower Protection Film & Anti-Graffiti Film (cover & protect)
Anti-Fouling: Avery Dennison WT Fouling Release Solution
Offshore - Shipbuilding - Harbors - Houseboats
Prevention of adhesion under water / splash zone
Absolutely environmentally friendly
No toxins, no chemicals, no contamination
Durability of 5+ years
Easy maintenance
Less effort - lower costs
Corrosion protection with foil - the special features
Reliable corrosion inhibition of up to 15 years
Faster implementation due to reduced layer build-up
Shorter drying times / time and cost savings
High temperature tolerance during installation
Uniform coating thickness / uniform protection
No environmental pollution / contamination of air and soil
No paint mist
No health hazards / clean working
Flyer
References
Are you interested in an individual offer?
Get in touch with us! You can reach us by e-mail This email address is being protected from spambots. You need JavaScript enabled to view it. or by phone 04293 917750.